This exclusive luxury holiday villa offers self-catering accommodation, as well as both privacy and convenience. The villa is eco-friendly, and the open plan living space offers magnificent views of the Indian Ocean, Tsitsikamma Mountain Range, Robberg Nature Reserve, Beacon Isle Hotel, and Plettenberg Bay Country Club. It is located a few minutes drive from Plett's pristine beaches, shopping areas and all major attractions. Earl's View Villa has been awarded the prestigious 5-star grading from the SA Tourism Grading Council, Earl's View Villa is located in Brackenridge, Plettenberg Bay, a 24-hour security controlled nature reserve estate.
Plettenberg Bay is located at the heart of the world-renowned Garden Route that runs along the South-eastern coast of South Africa. With its beautiful scenery and temperate climate, 'Plett' is popular with both locals and international visitors alike throughout the year.
This bustling seaside town offers something for everyone, boasting exquisite beaches, superb restaurants and breath-taking Mediterranean scenery. A burgeoning eco-tourism destination, Plett also affords visitors the chance to get up close and personal with the fabled Southern Right Whale, as well as an abundance of other marine life.
Summers in Plett are pleasantly warm with comparatively low humidity, while winters are mild to cool. Spring starts by mid-September, with high summer lasting from November to March, during which time temperatures peak at around 30°C. The temperatures start to cool from April, although it can still be very pleasant until June. June, July and August are Plettenberg Bay's winter months, and while still bright and fair, days can also be cold from time to time.
A highlight during spring is the arrival of several species of whales, including the rare Southern Right Whale, which breeds and calves in the sheltered waters of the bay. Boat-based whale and dolphin watching is becoming increasingly popular, with Plett's waters boasting five whale and three dolphin species that can be seen at various intervals throughout the year.
Back on land there's also plenty to do. Golfing opportunities abound, with both Plettenberg Country Club and the Gary Player-designed Goose Valley Golf Club within easy reach. For those less partial to putting, there are plenty of activities – both indoor and outdoor – to keep you entertained no matter when you decide to pay Plett a visit. Have a look at our 'Things to Do' Page for a detailed list of the many things to do in and around Plett.
FANTASTIC HOUSE, GREAT VIEWS, LOVELY AREA
REVIEWED MAY 1, 2014 - KEVAN R, THAMES DITTON, UNITED KINGDOM
'Stayed for 10 nights with 3 young children and grandparents. The villa provides an incredibly comfortable and spacious environment for a relaxing holiday. The rooms are huge, & the living areas amazing. The pool, jacuzzi and pool deck are great with an amazing view as a backdrop. Rob, the owner, did everything he could to make our stay perfect. Plett is a perfect beach holiday town with the best beaches. Many nearby excursions suitable for adults and children, Monkeyland, Wild Game Sanctuaries, Knysna etc. We run out of superlatives to describe the holiday & accommodation and are certainly planning a return trip.'
FANTASTIC FAMILY HOLIDAY HOME!
REVIEWED MARCH 6, 2014
'Had a great time in this house as a family of 4 (although it can sleep many more). House is beautiful, with a fantastic view and equipped with everything you need - from lovely pool and jacuzzi to home entertainment system with surround sound and projector!! Owner and renting agency were very responsive and helpful, and really wanted to ensure we enjoyed our stay. All in all a great option for families or groups wanting to visit Plett.'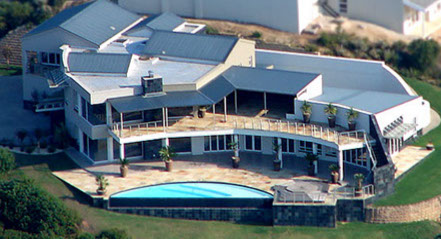 BEAUTIFUL HOUSE WITH A LOT OF FANTASTIC AMENITIES
REVIEWED MARCH, 2015 - URSULA AND KARL, AUSTRIA
'We stayed from January the 15th until March 15th 2015 in Earls View in Plettenberg Bay. We have been very excited to rent such a beautiful house with a lot of fantastic amenities. We are a couple from Austria which already retired and we love golf and sea. And in Earls View you have an amazing view to Robberg Beach and to the old Plett golf course. Everybody looked perfectly after us, if there was a small problem. We enjoyed everything in and out of the house very much. We definitely come back again.'